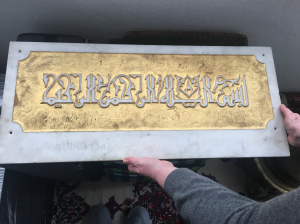 Cana Bilir-Meier / Foundation Stone
Eine künstlerische Recherchearbeit // An artistic research project
Booklet Cana Bilir-Meier Grundstein
PUBLIC ART MUNICH 2018 (PAM 2018)
Game Changers 30 April – 27 July 2018
Performative art in the city. Curated by Joanna Warsza.
Commissioned by the City of Munich.
The project was supported by The Federal Agency for Civic Education and Public Art Munich 2018
Mit freundlicher Unterstützung der Bundeszentrale für politische Bildung
www.PAM2018.de
Saturday, 26 May | 15:00 – 22:00
Freimann Mosque, Address: Wallnerstraße 1, 80939 München
Languages: German, Turkish, English
www.PAM2018.de
On October 6, 1967, the ceremonial laying of a cornerstone marked the start of construction on the Freimann mosque. However, rather than the traditional stone, a symbolic marble slab was used. The actual cornerstone, which was never installed, is the starting point for an investigation of stories that illustrate how society is shaped by immigration.
The artistic research project, consisting of an audio installation accompanied by this brochure, culminates at the mosque on May 26, 2018. On that day, the original foundation stone will also be returned to its place of origin and installed. My research consists of interviews with Hürdem and Zerender Gürel, the daughters of the architect and interior designer of the mosque, Osman Edip Gürel and Necla Gürel, and with my mother, Zühal Bilir-Meier, a child and youth psychotherapist who has worked in educational programs and given German lessons in migrant communities in Munich since the 1980s. Furthermore the musician and composer Aylin Aykan composed a piece of music for this project and project and the actress Hürdem Gürel-Riethmüller has recorded the text she has written herself.The architectural work of the husband-and-wife team Osman Edip and Necla Gürel does not appear in Munich's city history, even though they designed many influential buildings.
In a 'society of the many' (as cited by the tribunal judging the National Socialist Underground, a rightwing extremist group on trial for several xenophobic murders), we also need the stories of the many. The mosque is a historically charged place where stories of political instrumentalization of religion, the need for a spiritual space and the architecture overlap until today. Grundstein [Foundation Stone] is a research project that seeks to make different narratives, migrant-situated knowledge, migrant stories, positions and perspectives, visible and public. It is a memorial to the architect Osman Edip Gürel and the artist Necla Gürela, and thus a part of the history of Munich.
Facebook: Public Art Munich 2018 Instagram: #publicartmunich Vimeo: PAM 2018